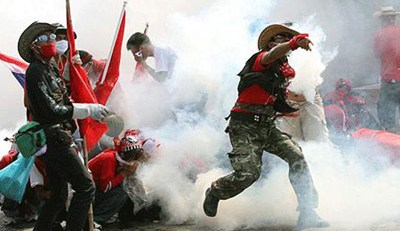 AGO..
BBC
Thais are marking one year since the violent end to two months of anti-government protests in Bangkok, reports the BBC. A total of 92 people were killed, including the 20 civilians and five soldiers killed in an earlier crackdown attempt on April 10.
Anti-government "red-shirt" protesters are planning a peaceful rally to mark the anniversary. Investigators and a fact-finding body have failed to apportion blame for the killings.
The protesters - numbering up to 100,000 at times - had been demanding the dissolution of the government of Prime Minister Abhisit Vejjajiva.
He has now called an election, set for July 3, but anger and hurt remain intense among all the victims of the unrest - protesters, soldiers and those caught in the crossfire. The anniversary will be marked first by a religious ceremony at a Bangkok temple and then by a renewed protest on the site of their fateful occupation in 2010.
The red-shirts had begun street protests in March 2010, moving to the central Ratchaprasong intersection, lined by five-star hotels and shopping centres, after a failed military action on April 10.
After negotiations between government figures and some protest leaders failed, the government decided to send in the soldiers on May 19.
They were accused of using excessive force; as they moved in, they came under fire from armed men fighting on the side of the protesters.
Several soldiers were killed and many more civilians, demonstrators, journalists and medics also lost their lives.
A truth and reconciliation commission was set up to establish the facts behind the violence. But, one year on, it has yet to make public its findings.
"We've said to the government over and over again: 'If you really want to heal, you need to hold some of your officials accountable,'" said Brad Adams, Asia director for Human Rights Watch.
Instead, the lack of justice is driving the sides further apart, he said.
The BBC's Rachel Harvey in Bangkok says that with an election due in July, Thailand's political divisions are likely to be exposed once more.
The question, she says, is whether differences can be resolved via the ballot box rather than on the street.
The main aims of the protesters now seem to be dovetailing much more with those of the main opposition, she says.
However, the Prime Minister himself admits that the wounds of May 2010 have not yet fully healed.
"Certainly, if you ask me if there is reconciliation today, I have to say 'not yet,'" Abhisit said in a speech this month.
Former Prime Minister Thaksin Shinawatra, accused of financing the protest movement while living in self-imposed exile in Dubai to avoid a prison term, remains a hugely divisive figure, our correspondent says.