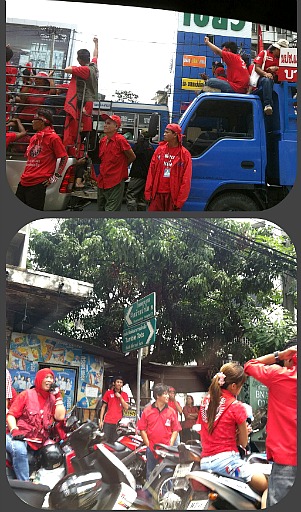 En la frontera con Camboya.
"Cambodia and Thailand exchanged heavy weapons fire for the third straight day, after fierce border fighting.
Ten soldiers have died in recent days and thousands of civilians have fled both sides of the disputed jungle frontier because of the fighting, which has shattered a tense two-month lull in hostilities.
UN Secretary-General Ban Ki-moon has called for a ceasefire and said the neighbours should launch "serious dialogue" to resolve the dispute, according to a spokesman.
Thai villagers sheltering in makeshift tents in Prasat district, Surin province, told how they raced from their homes in fear when clashes began in the border district of Phanom Dong Rak on Friday."

Read more: http://www.news.com.au/world/thai-cambodia-border-tensions-grow/story-fn6sb9br-1226044266439#ixzz1KdKv5VDa
Mas de 5.000 personas desalojadas este fin de semana y unos 30 muertos entre ambos bandos, por la disputa del famoso templo en la frontera, que la ONU reconocio como parte de Camboya.
Muchos de los que vivimos aqui sospechamos que el conflicto no tiene mas razones que levantar el animo nacionalista de los tailandeses, especialmente el de los "Amarillos" fieles seguidores del Rey ahora que se acercan las elecciones y los posibles enfrentamientos con los Rojos que siguen manifestandose aunque en menor numero cada fin de semana.
Unas fotos que saque desde el taxi en plena manifestacion el sabado pasado.